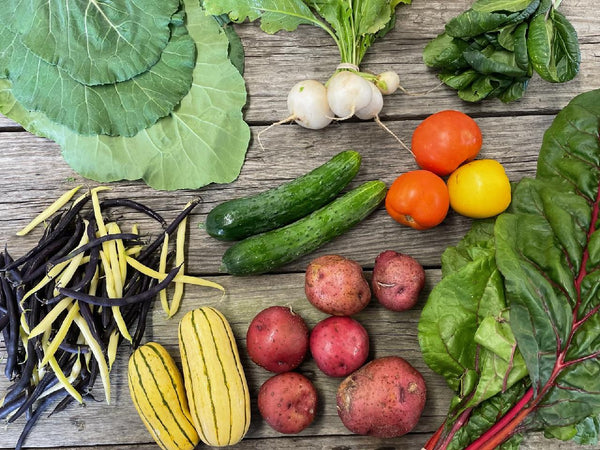 Spring 2022 Vegetable Farm Share
Get a weekly or bi-weekly box of optimally-harvested, seasonal vegetables and greens!

Our Spring 2022 Farm Share program runs for 8 weeks: April 20th - June 11th. Every week, or every other week, during those 8 weeks, Farm Share members pick up their share of fresh, locally produced greens & vegetables.

Your weekly or bi-weekly share will include 6-9 freshly harvested items, such as: premium lettuce heads and salad mix, spinach, tomatoes, cucumbers, kale varieties, beets, carrots, celery, salad turnips, zucchini and mixed squashes, and herbs such as cliantro, parsley, green onions.

4 pick up locations in Houston, Cypress & Brenham:
Sonoma Wine Bar & Restaurant in the Heights neighborhood of Houston, Texas - Pick up on Wednesdays from 1:00 - 8:00pm
Crossfit GBar3 in Cypress, Texas - Pick up on Saturdays from 9:30 - 11:00am
Otto's Emporium in Tomball, Texas - Pick up on Wednesdays from 2:00-5:30pm
Whitehurst Farm in Brenham, Texas - Self-serve pick up on Tuesdays starting at 4:30pm through Friday at 6:00pm
We offer two (2) Payment Plans for the Farm Share program:
The Pay in Full Plan is an upfront payment for the entire season providing us with much needed capital at the start of the season and as such, there is a discount on the price of a seasonal payment.
The Split Payment Plan is meant to give more flexibility in the payment schedule and allow our Farm Share program to be more inclusive. It is important to note that the Split Payment Plan still requires a commitment to participate for the entire 12-16 week season.