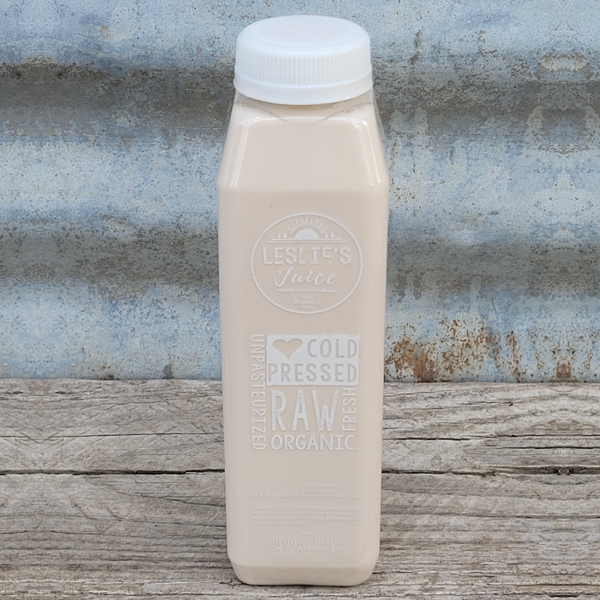 Almond Milk - Cold Pressed
Pricing update on almond milk: 
Whitehurst Farms almond milk is made with 12 ounces of raw organic almonds per bottle. This is an extremely different product than what is found in stores. This is a living product and made less than 24 hours for your custom order.
We purchase certified organic almonds from Spain in bulk. Almond cost per pound with shipping is now $10+ per pound. There is a 3 step/2 day labor component for making pressed almond milk. The milk is available but we want you to understand the extremely high cost of making this superior product and the recent price increase.
Cold-pressed almond milk made by Whitehurst Farm is nutritionally superior to store bought commodity almond milks. Our cold-pressed almond milk preserves the maximum amount of live enzymes, quality, and, most of all, FLAVOR!
We use certified organic raw almonds imported from Spain, where pasteurizing is not a requirement.  The unpasteurized almonds are truly raw and are not treated by irradiation, high heat, steam or chemically sterilized as required for all domestically grown US almonds, even those labeled as "raw." Unpasteurized almonds have their fats and enzymes intact and supply vitamin E, magnesium, and mono and polyunsaturated fats. 

Unpasteurized, dairy-free, vegan, lactose-free. Consume within 3-4 days.

PICKUP AND DELIVERY INFORMATION
All produce is harvested and juice is made fresh just for you. In order to allow time to prepare your items, orders MUST be placed by SATURDAY for WEDNESDAY pick up or home delivery, and by WEDNESDAY for SATURDAY pick up at the farm. Orders placed after the deadline will be delivered or ready for pick up at the next available time.
Clothing items are shipped directly to you.