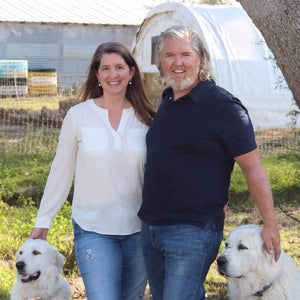 About Us
Whitehurst Farm is owned and operated by Michael and Leslie Marchand and our children. We started the farm on leased land near our home in Cypress, Texas in 2014. We moved the farm operation in 2017 to land that we purchased near Brenham, and we moved to live on the farm full-time in 2020.
Michael and Leslie were each raised with a respect and appreciation for our agricultural heritage in America. Together, along with our children, we decided to return to our roots and raise animals and plants the way that we learned from our grandparents. Each of our kids has a product named after them: Thomas' Turkeys, Marisa's Pastured Eggs, Christian's Chickens, and Olivia's Forested Pork.
ABOUT FARMER MICHAEL
MICHAEL & EMMETT WHITEHURST
Michael grew up in Longview, Texas where his family has lived and farmed for generations. Michael grew up visiting his granddad's farm to gather eggs and harvest vegetables. His grandfather, Mr. Emmett Whitehurst, was the inspiration for our farm name and agricultural practices. This picture shows Michael when he was a young boy with his mom, sister, and grandfather Emmett.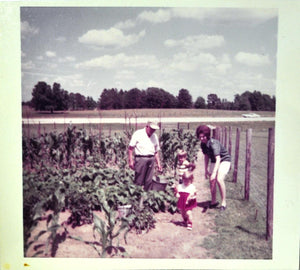 Farmer Michael
Farmer Michael has a natural connection to all animals and an intuitive sense about how to best raise farm animals in their natural environment.  He sold his previous business in 2014 to follow his passion for locally sourced sustainable food and agricultural practices.
ABOUT FARM GIRL LESLIE
LESLIE & HER TEXAS ROOTS
Leslie grew up in Dallas, Texas with frequent visits to her parents' land near Stephenville and her grandparents' land in Frydek (outside of Houston).  Her grandparents' land has been in continuous agricultural operation by the same family for over 100 years. It has been recognized in the Family Land Heritage program by the Texas Department of Agriculture. 
FARM GIRL LESLIE
Leslie was wholeheartedly supportive when Michael decided to sell his white collar business to become a full-time farmer in 2014.  Leslie is a mom and farmer's wife while maintaining her own career and business as a clinical social worker, yoga instructor and life coach.  She works full time as a Therapist at Mindstrong, and she writes and teaches about personal wellness and professional self-care through her books, blog and online courses at SoYoCo.org. She is the author of The Self-Love Journal and The 5-Minute Happiness Journal.