CONSCIOUS NOURISHMENT
Market garden, pasture-raised meat & eggs, cold-pressed juice, and artisan foods from our farm in Brenham to you and your family in Brenham & the Houston area.
Shop Here

Order Online
All of our products are sold through our online store.
Order by SATURDAY for WEDNESDAY home delivery or pick up at the farm.
Order by WEDNESDAY for SATURDAY pick up at the farm.
All produce is harvested and juice is made fresh just for you. In order to allow time to prepare your items, orders MUST be placed by the deadline listed above. Orders placed after the deadline will be delivered or ready for pick up at the next available time.
Clothing items are shipped directly to you.
Pick Up
Pick up at the farm is available on WEDNESDAYS for orders placed by SATURDAY:
Brenham - 8:00am - 7:00pm at Whitehurst Farm, 6580 FM 332
Pick up at the farm is available on SATURDAYS for orders placed by WEDNESDAY:
Brenham - 8:00am - 7:00pm at Whitehurst Farm, 6580 FM 332

Home Delivery
Home delivery is available on WEDNESDAYS to areas of North & West Houston, Cypress, Tomball, Spring, Brenham and Bellville. See the How It Works page to see the zip codes in our delivery area.
Delivery is available on orders over $175. Please place your order by SATURDAY for WEDNESDAY delivery.
If you live in the greater Houston area or in Washington or Austin County, orders from $175 to $274.99 = $15 delivery fee, and orders over $275 = FREE delivery.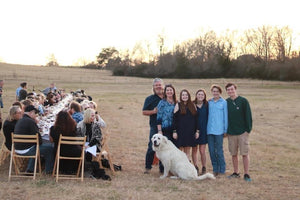 FROM OUR FAMILY TO YOURS
Hi, We are the Marchand family and we are honored to grow, raise and make the freshest food and juices for YOU! Farmer Mike does the heavy lifting around here (both literally and figuratively). Leslie and our kids balance farm chores with our careers, classes and activities. We all work together to help you nourish yourself, your family and your friends.
FEATURED ITEMS FOR Fall 2023
Happy Fall to our friends and family. We'll be getting ready for our Thanksgiving gathering, so we will NOT be delivering on the Wednesday before Thanksgiving. We look forward to seeing you between Thanksgiving and Christmas, and we wish you a wonderful holiday season!
Here are a few featured items:
Chicken: Boneless skinless, chicken thighs; boneless, skinless chicken breasts; and chicken sausage.
Beef: 100% grass-fed ground beef; primal (caveman) blend; steaks for grilling: Ribeyes (bone-in), and New York strip.
T-shirts, hats and mugs with our farm logo are available now! Go to the clothing and gifts section of the online store to see what's available.